Iron Mike´s Line 6 HD500X custom tone presets for the single Help Me Make It Through The Night, are available for free on the Line 6 website.   You can download them at the link below:
https://line6.com/customtone/profile/ironmikenorton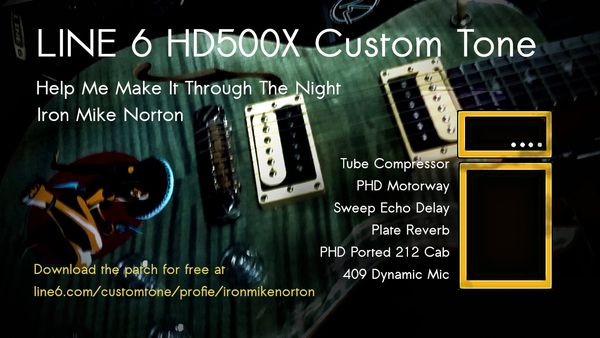 If you use the Helix or other Line 6 product, the setting below should help guide you to a similar tone.

Signal path is as follows:
PRS Zach Myers SE
Tube Compressor (based Teletronix® LA-2A® studio compressor)
PhD Motorway Head (Dr. Z Route 66 with KT66 Tubes)
Sweep Echo (FX LOOP; Maestro EP-1 with sweep effect added)
Plate reverb (FX LOOP)
PhD 212 Ported Cab mic´d with 409 Dynamic (Sennheiser MD409)
Some quick notes: the above settings were used for both guitar solos.  The first solo has phaser added at the board, using MeldaProduction Free Form Phase.  It is a layered, customized sound that would be difficult to reproduce live, but a decent phase pedal should get you in the ballpark
For the rhythm, use the above settings, but turn off the delay.

Have fun!